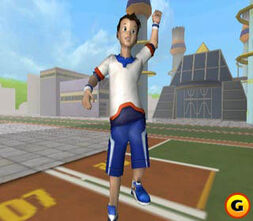 The main human character of the series, Connor is obsessed with robots. Connor was 13 years old when moved to Bubble Town, and soon after joined the 'Botties' by repairing the 'Unfixable Robot', Cubix. Perpetually optimistic, yet kind of a hard head, he initially gets into trouble with his dad due to his dislike of robots. He's best friends with Abby, as they often play 'virtual battle' video games at her house. He and the Botties hang out at his dad's doughnut shop and Hela's repair shop, the Botties' Pit.
Ad blocker interference detected!
Wikia is a free-to-use site that makes money from advertising. We have a modified experience for viewers using ad blockers

Wikia is not accessible if you've made further modifications. Remove the custom ad blocker rule(s) and the page will load as expected.